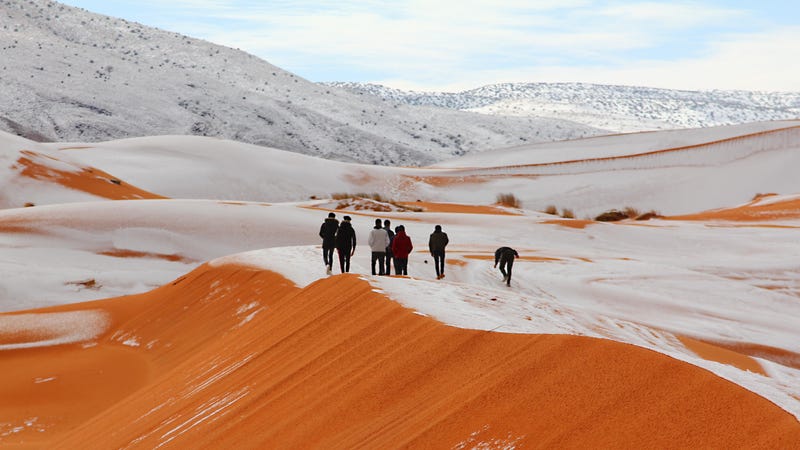 Look, I know we cover a lot of the bad types of weather here. Wildfires, droughts, extreme cold, hurricanes. But allow me to make it up to you with some Good Weather. Snow in Sahara? Yes, please.
On Sunday, snow fell in one of the most unlikely places on Earth. Ain Sefra, an Algerian town in the Sahara Desert, got a couple inches of the white stuff. It clung to the dunes for an hour and a half before melting. The Atlas Mountains that ring the town saw snow stick around a bit longer according to Zinnadine Hashas, a local photographer who captured the scenes.
The town is not exactly a snow magnet at 1,000 meters (3,280 feet) above sea level. The average low in January is 12.4 degrees Celsius (54 degrees Fahrenheit) according to records from the German weather service. Heck, it's not even a precipitation magnet. Ain Sefra picks up a grand total of 6.65 inches of precipitation a year on average, putting it well under the threshold of 10 inches a year scientists generally use to classify a place as a desert.
But over the weekend, the Algerian weather service issued a rare snow warning for the western part of the country forecasting 10-15 centimeters (4-6 inches) of snow. And on Sunday night, its forecast came to bear.